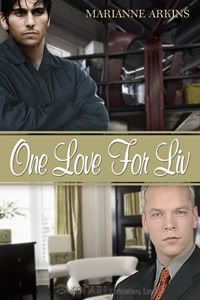 Welcome Guest Blogger Marianne Arkins, whose first Samhain Title came out this week! Click above to GO BUY!

1) What inspired ONE LOVE FOR LIV?

Liv was a character from one of my other novels (still unpublished) who ended up being written out. But I loved her! She was the incredibly nasty ex-fiancée in that book, snobby and perfect, and I loved her so much I wanted to make her a heroine instead. I knew it could be difficult, so I had to make her somewhat sympathetic despite her bad habit of looking down on everyone, so I worked through a plot that would encourage that AND force her to change. I created that book for Liv, and not the other way around.


2) It was a NaNoWriMo book. Did that make it easier or harder to write? To revise?

It made it a LOT easier to write – with NaNo, you just don't have time to think of all the places you're messing up. I also added things to that book because of NaNo that I would never have added if it had been written at any other time (like the secondary character, Frank, who is trying to break a Guinness Book World Record).

Conversely, what made it so easy to write made it a nightmare to edit. Motivation was missing in some places, I forgot certain plot points, and even changed hair color once. The book as it was following NaNoWriMo in 2005 is only a pale shadow of the book it is today.

3) What is your process in your non-Nano books? Do you have the same process for every book?

The main difference in a non-Nano book is that I allow myself to write a little while I'm brainstorming. Writing miscellaneous scenes (ones that I often times won't even use in the book) helps me get in touch with my characters. I love to use writing prompts to get the juices flowing and do it frequently at the beginning of a book. I seldom write the book in order, and almost always write the ending after I've written the first few chapters. It helps me to know where I'm heading.

I do try to have 20 or so scene ideas brainstormed before I begin seriously sitting down to write a novel and hope that I'll think of 20 – 40 more as I write (so far, that has never been a problem). I really believe that the characters write the story, and the better in touch with them I am, the easier it is to write.

For NaNo, I brainstorm and do character interviews and think up scenes. I also make a list of potential "dares" from their message board that I can use when I'm stuck. I love those, and often utilize them even when NaNo isn't in session. I just don't write scenes.

4) What has your journey been like so far? Is there anything you'd do differently in your career so far?

I'd have gotten serious sooner. I feel like I missed so much time. I'd also have sought a critique group earlier. Working with the talented ladies that I have been privileged to work with has been invaluable.

On the other hand, I firmly believe that things happen the way they're supposed to, so I suppose this is when I was supposed to be published. I do think things are so different now, with ePublishing being so popular, and I have certainly benefited from that!

I do admit to being surprised that "One Love For Liv" turned out to be my first published novel. I have several others that are completed, but I just haven't gotten them polished yet. Liv called to me, for whatever reason. She's a pushy lady, and shoved her way to the front of the line.

5) What aspect of craft have you struggled with the most? How do you overcome it to write a selling book?

I struggled with and STILL struggle with all the techniques we're supposed to use consciously. GMC, for instance. I understand the concept, but don't like being shoved into a box. I have tried to use so many different ways to write, and fact is, I don't like any of them—pieces of them, yes. But no one way works for me.

I also HATE to revise. I have one particular friend who loves that part of writing, but for me, when the first draft is done, I just want to be finished and move on. Realistically, I realize that's impossible. Wouldn't it be great if we could all write perfect first drafts? But still, I dread editing and revision more than being locked in a tiny wooden box full of tarantulas.

6) What one thing do you think beginning writers focus on that they probably shouldn't?

Writing to the market. Fact is, by the time you finish your draft, edit and submit, something else will be hot.

I think new writers should work more on technique and good grammar. I can't tell you how many times I see ladies in a class who can't spell, use words correctly or punctuate properly. In my opinion, there is no excuse for that. If you're a writer, you gather the correct tools for your trade, and good grammar should be top of the list. It's like being a brain surgeon and using a steak knife instead of a scalpel to do surgery.

7) What do you enjoy most about being a writer?

Writing! I have all these ideas bouncing around in my brain, struggling to get out. I love to write. I love to see my characters, my worlds, my stories take shape. They're my friends and my children. I truly love the simple act of writing.

8) You also own the review site, The Long and the Short of It. How do you balance keeping up that site with your writing life and your family life?

Thankfully, I have an amazing business partner, Judy, who helps as much as she can, as well as two reviews coordinators ("all around big helps") who do much of the "grunt" work. Mostly, my job is to work with publishers, coordinate advertising, guide the reviewers and I am responsible for building and maintaining the website. It can be a challenge… I'm also a homeschooling mom to a fourth grader, and so never have a time when I don't have my daughter with me. My husband is VERY understanding and, in fact, encourages me to write as much as possible.

It helps that I'm an over-the-top type A personality and the queen of multi-tasking. I can't NOT do more than one thing at a time. If I'm watching TV (which isn't often), I typically have my computer in my lap or a pad of paper. When I cook, I read books for review. I'm also a very early riser, so have several hours in the morning without much interruption.

Is it a challenge? You bet. But it's also rewarding as well. We saw a need, and we wanted to be the nicest reviews site out there—no snark allowed—and we hope we're managing to do that.

9) Where do you see yourself in five years? Ten years?

I'd like to be able to have a real career as a writer. My goal is to be a person with contracts and deadlines (I love deadlines!) and lots of published books on the shelf. I don't have any desire to be famous—fame is a headache. I just want to be able to have a consistent and ongoing life as a published author, five, ten or twenty years from now.

10) What are you working on now?

I'm working on finishing my first mystery. This has been a real challenge! I've found that I tend to focus on either the mystery or the romance, and not both. I've had to go back scene-by-scene and layer in the missing elements every time.

When that first draft is completed, I want to polish up the novel that Liv was originally a part of. It's a fun story that I've been working on for far too long, and I'd like to get it out the door.

I also have several short stories asking to be written, and I'll get to those when I have the time. I love to work on my short stuff at the same time as a novel, because it's encouraging to be able to write "the end" on something when I begin to wonder if I'll ever finish a longer piece!

A shortage of ideas is not a problem. I'm sure I'll keep busy.

To learn more about Marianne Arkins, please visit mariannearkins.com or www.reading-writing.blogspot.com, and for the most up-to-date news and information, you can join her announcement only newsletter at: her yahoo news group .

And please ask any questions!
Goodreads

About Me
MJFredrick

I'm a mom, a wife, a teacher and a writer. I have five cats and a dog to keep me company. I love bookstores and libraries and Netflix - movies are my greatest weakness.
View my complete profile
Join My Newsletter
MJ Fredrick Fan Page's Fan Box