see more dog pictures

Sunday night after my stepdad's birthday dinner, I came home and finished reading INTO THE FIRE by Suzanne Brockmann.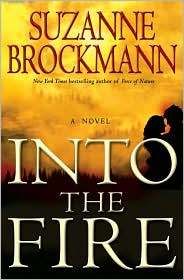 This book is honking huge - 477 pages - but there is a LOT going on. It's Vinh Murphy's story, who almost died in Hot Target, and lost his wife. Three years have passed since that tragic event and Vinh has become a different man. He turns to his best friend Hannah, a former cop overcoming a tragedy of her own. The conflict is so layered between these two, you hold your breath through the whole book to see how it will turn out. Both are so damaged. Their enemy this time is Tim Ebersole and the Freedom Network, a survivalist Neo Nazi group who are danged scary. DANGED scary.

Izzy Zanella also gets a surprising romance in this one. I don't remember Izzy so well, but at first he comes out as kinda jerky, but of course redeems himself SO WELL. Oh, my goodness, SO WELL. I LOVED him at the end.

Decker has a few scenes, as does Dave, the former CIA guy, and Sophia. What a triangle.

Danny Gillman has a ton of ground to make up before he can be a hero, let me tell you. Grrrr.

And Tess and Nash have a, well, I don't want to spoil it, but they play a big role. BIG role.

This is my FAVORITE Brockmann since Out of Control, Wild Card's story. I cried - no, SOBBED - the last 100 pages, which were so action and emotion packed I could not put the book down. As soon as I finished, I sent Suzanne Brockmann a gushing email, and was shocked to find a response from her the next morning! How cool!

Anyway, if you're a Troubleshooter fan, you must read. If you haven't read the others, well, you need to at least start with Hot Target. There are a lot of faces in this book and even though I've read all the books, it's been awhile and it took me a bit before I could remember who everyone was. Izzy, I didn't remember. Now I will.

I went shopping with Mom yesterday and got two pair of denim Capris and 2 pair of wedge sandals all for $75, which I didn't think was too bad. Today I'm staying home and writing. I may go to the library and Blockbuster, though.


12:59 AM | Labels: books |  
Goodreads

About Me
MJFredrick

I'm a mom, a wife, a teacher and a writer. I have five cats and a dog to keep me company. I love bookstores and libraries and Netflix - movies are my greatest weakness.
View my complete profile

Archive

Twitter Updates

Join My Newsletter

MJ Fredrick Fan Page's Fan Box