We were flipping through the channels last night, in the thirty minutes between King of the Hill and Grey's. The dh saw Michael J Fox on In The Actor's Studio and stopped.

After 15 minutes, I had to leave. I couldn't watch.

This episode was from 2005, almost a year old. At one point, he had to leave the stage while the medicine kicked in. His tremors were worse and worse, and you could see him trying to fight to stay on stage, to finish. I'm crying just thinking about it.

I was never a huge MJF fan. I watched Family Ties and Back to the Future, but I never said, "Oh, MJF, I have to see that." Yet I hurt watching him last night, almost as if I was watching someone I loved hurting.

And yet, y'all, he was amazing. I have the utmost respect for this man, who says this was not the way he'd choose to live his life, but he considers it a gift because it brought so much recognition to the disease that affects so many. He understands he has it easier because he doesn't have to worry about insurance and all that, and he says he doesn't want to make Parkinson's look like something that is easy to live with, but he does want people to know they can live with it.

He shared a story about - I'm going to mess this up. He said God had this group of people and he told them to stand in a circle and put their worst problem in the circle. Then he told them to take any problem from the circle as their own. Everyone took their own problem back. Isn't that just true?

He also told this young girl who asked a question, and also has a neurological disorder, that he knows he has to walk through the pain, because chances are, on the other side, there will be something good.

Wow.

He also said something about being a writer, but I was sobbing so hard by then, I can't remember.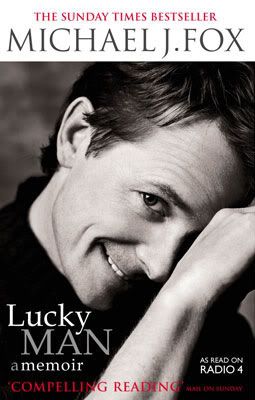 Goodreads

About Me
MJFredrick

I'm a mom, a wife, a teacher and a writer. I have five cats and a dog to keep me company. I love bookstores and libraries and Netflix - movies are my greatest weakness.
View my complete profile
Join My Newsletter
MJ Fredrick Fan Page's Fan Box