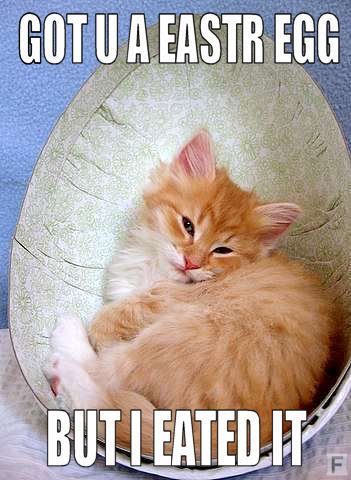 HAPPY EASTER!!! We didn't go to the Starving Artist Show yesterday - it was MISERABLE, raining and the temp kept dropping lower into the 30s. I don't know if we're still going to try to go today. My brother is having Easter at his house at 2:30, and everyone's still asleep here. At least it's stopped raining.

I got down an Easter basket I'd forgotten I had --- yes, my son's 15, yes, I still make him an Easter basket. It was in the very top of the hall cabinet, and I guess it hasn't been used since maybe our 2nd year here, which was about 6 years ago. Well, one of the plastic eggs felt a little heavy, so I opened it. SOMETHING was inside - I think it used to be chocolate. BOY did it smell. So I threw all the plastic eggs away. BLECH!

So I've been doing research on vampires because after I finish Alex, I'm going on to a vampire hunter story. Only everything I'm learning about vampires makes them kind of wimpy. I mean, they can't cross running water, you can stake them, set them on fire, behead them, lure them into the sunlight, heck, you can steal their sock and throw seeds down for them to count. That just makes them a little less scary to me.

Stacy B said she's reading Dresden Files and Dresden has come across different TYPES of vampires. This helps because I can have my hunters encounter a type they've not seen before. I had another idea this morning before I got up and of course have since forgotten it.

So how do you go about world building, to make your characters different from what's out there?


Goodreads

About Me
MJFredrick

I'm a mom, a wife, a teacher and a writer. I have five cats and a dog to keep me company. I love bookstores and libraries and Netflix - movies are my greatest weakness.
View my complete profile

Archive

Twitter Updates

Join My Newsletter

MJ Fredrick Fan Page's Fan Box