see more crazy cat pics

How to Celebrate Your First Book Release

1) Guest blog on your dear friend's blog - and be able to access it from school ;)

2) Your principal announces that you are a PUBLISHED AUTHOR on the morning announcements - the kids across the hall give you a standing O, everyone stops you in the hall for a hug, kids you don't know congratulate you.

3) Your principal makes a banner saying "Congratulations! We are ALL so proud of you!" complete with hearts with little flames in them, and hangs it in the teacher's lounge.

4) Your principal buys you a chocolate cake that says "Congratulations."

5) People tell you they want a shirt with your book cover on it, that you wore under your school shirt to flash people.

6) Teach factoring and start an art lesson, only to have the district PR person come into your room to interview you and take your picture (in your school shirt and jeans, your hair piled up, your make-up long gone).

7) Take your kids to the park to crack confetti eggs.

8) Be ready to bolt when the bell rings, only to have a parent conference, but it was a good thing because I learned things I didn't know about my new student who had been giving me fits.

9) Come home (after 45 minute Friday afternoon traffic) to a jillion emails, including one telling you your book is in the top ten top sellers on the WRP website.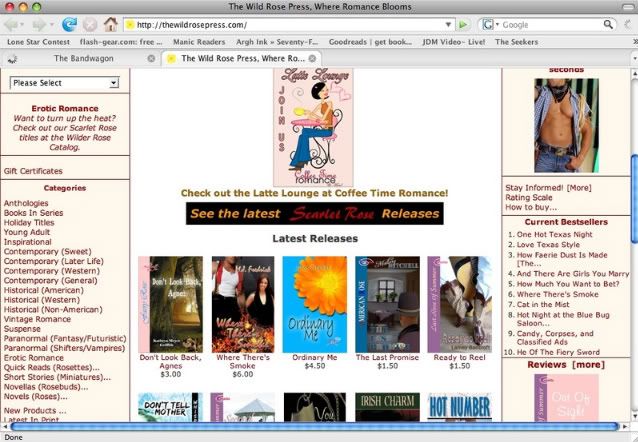 10) Your husband brings you a bouquet of BEAUTIFUL roses.




11) Your husband and son take you to your second favorite restaurant (owned by the same people as your favorite restaurant, but closer) for dinner.

12) Go to Target to get No Country for Old Men for your son. Come home too sleepy for champagne, and go to bed at 9:30.

So, a really really good day.

And now that I'm on Spring Break....

Goals for Spring Break

1) Finish and submit Wayback (not as scary as it looks – I have a couple of hefty scenes handwritten in my notebooks.)
2) Query for Supernatural essays again
3) Get out newsletter.
4) Get on Romance Junction and Romance Wikipedia
5) Update Good Reads and Manic Readers
6) Breakfast/shopping with Mom
7) Walk
8) Keep house (should be easy after Monday)
9) Not fret too much about the boy's trip (did I mention he has to be at the airport at 4:30 AM??)
10) Catch up on DVDs and Tivo


Goodreads

About Me
MJFredrick

I'm a mom, a wife, a teacher and a writer. I have five cats and a dog to keep me company. I love bookstores and libraries and Netflix - movies are my greatest weakness.
View my complete profile
Join My Newsletter
MJ Fredrick Fan Page's Fan Box