Enter the ICHC online Poker Cats Contest!

There is this mockingbird outside that sings ALL NIGHT LONG. This bird has no problem with projection, as Trish and Dawn can tell you. USUALLY I can sleep through it. Not today, though. I've been up since 3:30 fretting about things, all the while envisioning taking a shotgun outside and seeing said mockingbird explode in a cloud of feathers. Of course, I have no shotgun and would be jailed for discharging a gun in the middle of the city in the middle of the night, but I'd like to think the neighbors would cheer me. I may buy one of those big ugly inflatable owls, though.

We saw Beowulf last night. Don't. Just...don't. I think I'm going to quit the DVD mail thing - the movies sit here so long before we watch them - it's just not worth it.But I DID finally sew the new buttons on my suit - that I bought in the beginning of NOVEMBER!!!!

Okay, I have this incredible list of email addresses thanks to the Book a Day Giveaway on The Romance Studio. (Titania won, btw.) So Monday I made a newsletter. Only I think the newsletter should have more that just my books, like an article of some kind, but I don't have any good ideas. Any of you have any ideas? Also, I don't know how to make an address book separately. I use Entourage. Does anyone know?

Tomorrow I'm blogging at Samhain for the first time (providing I get my password!). I probably don't want to scare the readers the first time out, so I'm thinking of blogging about one of the following:

Hot Shot's long and winding road
Motivation (a writer's, not a character's)
Favorite quotes
Favorite things
Favorite couples
Importance of having goals
First romance novel
Music and writing
TV and writing
Dreams as inspiration
Obsessions (maybe too scary for the first time ;) )
Best thing about being a writer

What do you think?

Did I mention I put my book covers on some stuff at Cafe Press? Well, the Smoke t-shirt and the Hot Shot mug arrived yesterday. Both are REALLY cool. The mug, especially. (Tracy, those are some of your Intrigues behind the shirt.)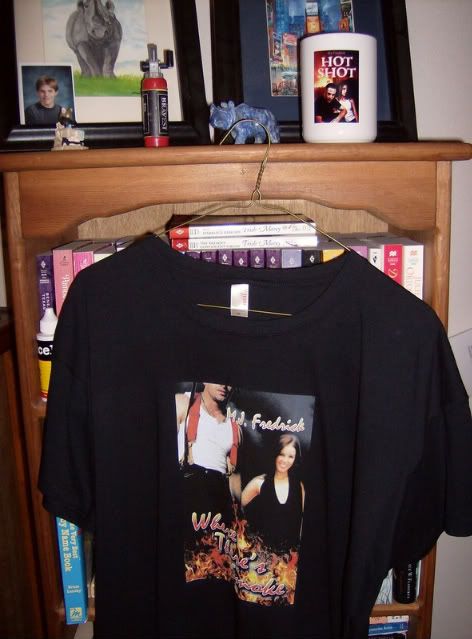 Okay, still time to get some work done on Wayback.


Goodreads

About Me
MJFredrick

I'm a mom, a wife, a teacher and a writer. I have five cats and a dog to keep me company. I love bookstores and libraries and Netflix - movies are my greatest weakness.
View my complete profile
Join My Newsletter
MJ Fredrick Fan Page's Fan Box