Elizabeth tagged me, so here goes!

1. The Internet is evil when it comes to book buying. It leads to impulse buying. Read someone's comments on a book that sounds interesting? Hop on over to amazon.com. My wish list there is maxed out! I've cut back on buying new books from people I know, or from people whose books I love to keep reading (don't want their numbers to fall off!) But between eHarlequin and SARA and the Wet Noodle Posse, I'm going broke!

2. I'm very careful with brand new books. I used to share them with my grandmother (that kind of justified the expense, and she'd slip me a $20 every now and then for book money.) Used books, I don't tend to treat as fine. They can slide under the seat of the car, or get beat up in my purse, or accompany me to the bathtub.

3. Going to Barnes and Noble can have one of two effects on me as a writer – freeze me up because I can never possibly compete when there are So Many Books, or fire me up because I want to see MY name on that shelf. (Yes, even if it's a pseudonym.) And no, I can't walk out without buying anything.

4. I'm not much in the way of a series reader. You know, Anita Blake and all that. I petered out on JD Robb, though I still have about 4 in my TBR, and I haven't bought them in 2 years. I've read all but the latest in the Outlander series, and am not drooling to read this one, not like I was when the 4th one came out.

5. Covers…I have bought books by their covers, most recently Lori Handeland's A Soldier's Quest. My first book that I bought by the cover was Winter Roses. It turned out to be my favorite book. I love pretty colors on covers – that draws my eye. I'm not fond of cartoon covers, though Julie Ortolon's latest, where the couple is at a table sipping margaritas is pretty cool. I do hesitated to take bare chested covers and clinch covers in public.

6. I rarely reread books. I have enough new books to read! I have reread the first three Outlanders, Winter Roses and some of Nora's earlier ones. Now I buy them on CD so I can listen to them on the way to work!

7. I read one book at a time, unless it isn't holding my attention. Then I might pick up another one, but still give the first one a chance, in case it's just my impatience. It's rare that I'm reading two, though.

8. I read in the bathtub, in bed, or in one of my two favorite chairs. I read in waiting rooms, too. Again, not often.

9. I love authors who make me forget about GMC and POV and all the other things that I've learned to watch for. I want writers to take me into their world. Nora does, Catherine Mann does, Jennifer Crusie does, Suzanne Brockmann does.

10. I don't like books with children. Maybe it's part of being a teacher.

11. I have never read an e-book.

12. I dream of having a book signing with Nora Roberts. Hey, may as well dream big.

13. I almost always force myself to finish a book. Part of me wants to see what happens, part of me feels, well, I wasted that time starting the book, may as well put the rest of the investment in.

14. I took the English AP test in high school (I wrote about The Great Gatsby, the scene where she's going nuts in his closet, throwing shirts around), getting me out of freshman English. Yay, me! And then I minored in English!

15. Titles…some are just so damn catchy, like the Bombshell Cardinal Rules. It's about the Vatican, get it? Some are awkward, especially historicals, if I don't know how to pronounce the words. Elizabeth mentioned the Presents titles, some of the Romance titles were bad, too. But I understand those hooks are big!

16. A lot of my early memories revolve around books. Taking a road trip to California with Trixie Belden books strewn across the backseat of the Cutlass and my dad getting mad, buying MORE Trixie Belden books once we were IN California, helping my 4th grade teacher plan a mural about Little House on the Prarie, going to the school library one day a week during the summer time (now that was a librarian who wanted kids to love reading!) My grandmother signed me up for all kinds of book clubs, like a horse book club. Was I in heaven or what? My grandmother would tease me about a particular incident. I read all the Blaze books, by C.W. Anderson. Well, in my hometown, there's a Chas. W. Anderson loop. I of course asked if it was named after one of my favorite authors.

Okay, I tag Colleen, Trish and Bosey!
Goodreads

About Me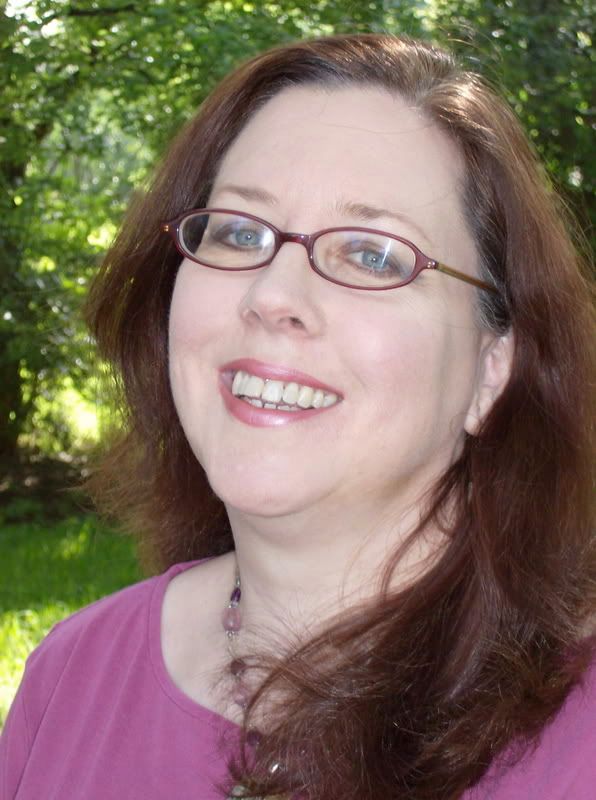 MJFredrick

I'm a mom, a wife, a teacher and a writer. I have five cats and a dog to keep me company. I love bookstores and libraries and Netflix - movies are my greatest weakness.
View my complete profile
Join My Newsletter
MJ Fredrick Fan Page's Fan Box